U15 Cup Success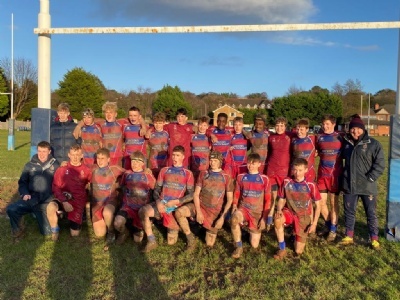 U15 advance to the quarter final of the Natwest Vase after a nail biting 17-10 win away to St. Anselm's College Liverpool
King's advance to the quarter final of the Natwest Vase after a nail biting 17-10 win away to St. Anselm's College from Liverpool.
King's enjoyed a long trip of almost 3 hours to play their last 16 match in Birkenhead. St. Anselm's College have a fearsome reputation in rugby, producing fine players down the years such as Austin Healey. The team is now coached by former Ulster and Ireland full back Simon Mason.
The game was played on a very wet, heavy pitch which played to the advantage of the home side. King's, despite the long journey, started brightly asserting their dominance through the forward pack. Led by G. Conron, the rolling maul proved particularly potent. On the 5th minute, a St. Anselm's infringement allowed captain B. Taylor to kick for the corner and set up the maul. A fantastic shove allowed prop R. Sheard to dot the ball down for the first points of the game. St. Anselm's responded well and looked to use their forwards in attack to gain ground. St. Anselm's scored just before half time to level the game with almost a carbon copy of the King's try. 5-5 at half time.
Coach Dave Gilbert rang the changes at half time with Park, Riley, Griffiths and Muir entering the fray and adding fresh energy to the effort. St. Anselm's had a pop at the post early in the half, but the attempt sailed wide. Both teams looked to kick the ball more in this half in order to win the territorial battle. With 20 minutes to go, and after some resolute St. Anselm's defence, B. Taylor finally unlocked the door with a delightful chip and chase to score and put King's back in the lead. The conversion was unsuccessful making the score 10-5 to King's. Cup competitions are often decided by the finest of margins or by a piece of magic. In this game J. Brahoua provided the magic. He collected the ball on his own 10m line before handing off his opposite number and galloping down the touch line. Three further St. Anselm's defenders tried to stop him, but he would not be denied, scoring under the posts for an easy conversion. 17-5 to King's with 10 minutes to go. St. Anselm's, with nothing to lose, came out firing and scored a try late on to set up a nervy finish. However, King's held on for a terrific win and advance to the quarter final stage.
The team watched the draw take place live from Twickenham Stadium on Friday afternoon. King's will now host the winner of RGS Worcester and Pate's Grammar School in the quarter final. The quarter final is due to be played during the week beginning 10th February. More details will be announced when they have been confirmed.