Success for Year 9 in NLD Tournament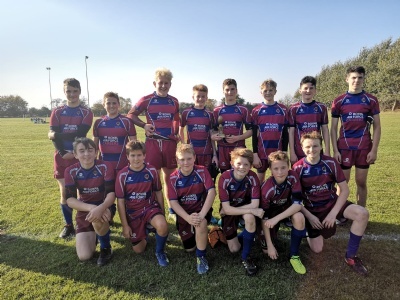 NLD success wraps up an excellent term of rugby
The U-14 team travelled to Newark Rugby Club to take part in a 12-a-side Nottingham, Lincolnshire and Derbyshire (NLD) rugby tournament. This was an excellent opportunity for the boys, who are undefeated all season, to test their mettle against some of the best schools in the region. The team relished the challenge and, under the leadership of Mr Whales, played some of their best rugby of the year to win the prestigious tournament. Particular highlights were the 56-0 win over Ashfield School (Nottingham) and the 56-5 victory over a very good Brunts Academy (Mansfield). The player of the tournament award went to Jamie Porter who put in a virtuoso display, cutting dangerous running lines and being permanently unyielding in defence.
In a typically busy week of rugby, The First XV and the U-15 team both progressed through to the next round of their respective Natwest Vase competitions. The U-16 team showed true grit to win a thrilling game away to Carre's 28-17. The King's team were 17-0 down at half time. There were also wins for U-12's, U-13's and U-15's against Spalding Grammar.
Overall, it has been an incredibly successful term of rugby at King's. As a school across all age groups and including A and B teams, the school has won 90% of its games. The boys have also scored 1343 points and conceded just 244 over the course of 30 matches. As well as this, 2 tournaments have been won and the U-15's, U-16's and First XV are all still in the hunt for success in county and national competitions.