Careers Talks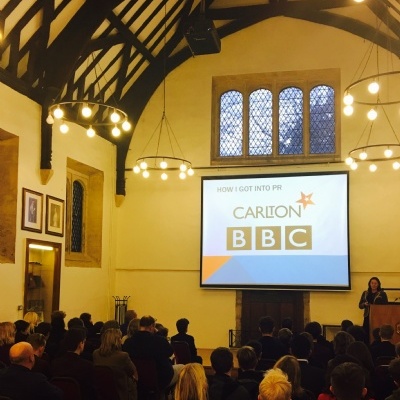 A successful evening of Careers Talks on Journalism and PR
An informative evening of Careers Talks was delivered by Rob Dorsett and Rachel Dorsett in the Old School and was attended by students from all years and their parents.
Rob is currently one of Sky Sports' senior reporters, covering stories mainly for Sky Sports News. He began his journalism career as a volunteer reporter for 'Redbrick', the University of Birmingham student newspaper, before winning the Young Sports Journalist of the Year title with the Independent newspaper in 1995. His first contract was with BBC Radio WM in Birmingham in 1996, where he worked as a news reporter, before moving to TV the following year, covering news and sport stories for BBC Midlands Today. He moved to London in 2000, to become Chief News reporter at BBC London before returning to Nottingham in 2002 to become Sports Presenter of BBC East Midlands Today. After almost 3 years fronting the show, he moved to Sky Sports to become Midlands Correspondent, where he's remained for the last 12 years. His 20 year career has seen him cover major sporting events and stories all over the world, including the 2004 Olympics in Athens for the BBC, and the European Football Championships in Poland and Ukraine in 2012. Last year, he interviewed David Beckham in London, and Usain Bolt in Jamaica.
Rachel Dorsett has 25 year's experience in PR, starting as a press office assistant at Central Television where she worked to promote ITV TV programmes in light entertainment and drama, working with Bob Monkhouse, Noel Edmonds and Jeremy Clarkson to name but few. She was headhunted to the BBC in London three year's later where she continued her career for ten years - working out of TV Centre in London and later the Pebble Mill studios in Birmingham. Taking charge of the Leisure and Lifestyle programming department which included all of Delia Smith's BBC TV series and other well known chefs. Crisis management became a large part of her role and the art of keeping celebrity presenters out of the News of the World was as big a part of the job as getting publicity within these titles. In 2004, Rachel left the BBC to go freelance, specialising in PR for the food and drink sector. From pies, to cheese, from California prunes to restaurants - the past 12 years have been an international foodie PR journey, working in Poland, Russia, America and Italy. Rachel is now director at Cartwright Communications - a PR agency in Nottingham, where she heads up the consumer PR division and works on bringing in a range of new business for the agency as well as heading various high profile accounts from the national Bistrot Pierre restaurant chain to global health and well being brand Jeunesse.