End of Term Rugby Review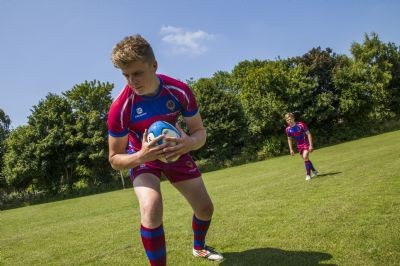 There have been many notable successes this season on the Rugby field. Please read the full story for more information.
The First XV rugby team have played 10 matches, and won 7. They have reached the last 64 of the National Cup and have had notable wins against Nottingham High School and Welbeck College, both home and away.
Ben Addlesee, Ed Bloodworth, Ed Cole, Alex Ingram, William Young and Harry Adams have played for the NLD Under 18 side.
Three members of the First XV squad have also received Under 16 Midlands trials. They are James Newman, Connor Slack and Callum Slack. James, Callum and Joshua Hubbard, played for the Leicester Tigers Under 16 squad against London Wasps on the 18 December, with Callum scoring one of Tigers' 3 tries to beat Wasps 17-8.
The Second XV have had a good season with 3 notable victories against Trent College, Loughborough Grammar and Priory LSST.
The Under 15 side have reached the last 32 of the National Vase competition. Matthew Law, Chris Hardy and Alex Wheeler from the Under 15 squad are currently involved in the Leicester Tigers Developing Player Programme.
The Under 14 squad only lost one match all season and comprehensively beat Loughborough Grammar, Nottingham High School, Leicester Grammar and Birkdale School by a winning margin of 30 points or more in each game. Six of the squad represented their county in Rugby this year. They are Joshua Hough, Cameron Cox, William Helliwell, Alex Henderson, Joshua Peters and Tom Green.
The Under 13 squad also had notable victories over Birkdale, Leicester Grammar and Carre's this season.
The Under 12 squad have won 6 of the 9 games they have played. They have recorded notable victories over Trent College, Witham Hall, Wisbech Grammar and Northampton School for Boys.
James Newman has been selected to play for the Midlands Under 16 Division Squad.
Toby Whinney has qualified as a rugby coach by attending a young officials award scheme run by the RFU.